I came back from my book tour this summer on a high.
I nailed my speaking presentations, I sold more books than anticipated, and I received such an overwhelming positive response for my work with STUCK that I was ready to fly with it to the moon.
Within a week of returning to Israel, I had set up two speaking engagements outside of my home community – the first time ever I would take STUCK out of Hannaton.
I knew it was going to be an amazing year.
I was on a roll.
The momentum was going.
I couldn't be stopped.
Until…
Everything, well, just stopped.
Yes, I had this blog.
Yes, I had my Facebook group.
Yes, I had my book.
But, I wasn't continuing on a speaking tour, as I was in the States.
I wasn't presenting in synagogues, spiritual centers, and people's homes.
I wasn't meeting anyone new to whom I could present STUCK.
Like a chicken with its head cut off, I've been overly thinking about what to do about this.
I mean, I've only been living in Israel for about 7 years, I don't know many people outside of my community, and I cannot set up presentations with the ease I did this summer, when I returned to my hometown.
So, what's my alternative to bring STUCK to the world?
Sell an on-line course? A webinar? Start a podcast? 1:1 Skype coaching? On-line coaching? Retreat getaways?
For about a month or so, I've been feeling really stuck.
Stuck on frustration.
Stuck on uncertainty.
Stuck on ambivalence.
Stuck on disappointment.
Stuck on anxiety.
Knowing that I was stuck, I reached out to a few friends and some people who "graduated" from one of my STUCK workshops.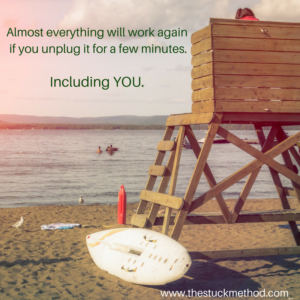 And here are some considerations they offered me:
That the answer will come from my heart, not from my brain – and that I can consider I've been doing way too much thinking.
That it may be worth it to "unplug", to take a step back, take some time away from STUCK – to gain new perspective.
 "If you can't let it go, let it be." In other words, if I can't cease thinking about something, just let it rest. Look at it. Notice it. STOP with it.
Trees in a forest don't get stressed about growing. Consider there's no need to be stressed about growing STUCK.
I live here, in Israel, and I can consider I have done more face to face work with STUCK in the States than I have done here where I live.
Upon hearing these considerations, I went from a place of feeling incredibly desperate, to a place of feeling incredibly hopeful.
And soon developed a game plan.
That is, while it's true I don't have many connections here, I do have many friends who are connected to people around Israel. My plan is to begin reaching out to my friends and asking if they'd be willing to help me directly or indirectly set up Getting unSTUCK presentations.
One presentation at a time.
Whether it's in a synagogue or someone's home.
Whether it's for a group of 50 or a group of 10.
This is what will get the ball rolling.
And this is what will begin to expose people to STUCK.
Which of course, will lead to growing my list, selling my book, and offering my services.
Now, wait a minute!
How did I not think of that?
How could I not see that?
Maybe I was also stuck on fear?
Regardless, what is key here is the transformation that happened.
It was because of my friends' considerations that I was able to gain clarity, create a plan to move forward, and get unSTUCK.
Exactly what it is that I do for others.
And, here I go!