My book, S.T.U.C.K. – Five Simple Steps to Emotional Well-Being, will be coming out in May!
That's like around the corner!
The excitement is growing!
The editors have nearly wrapped up their work.
The book is ready to get formatted for print.
The endorsements are coming in.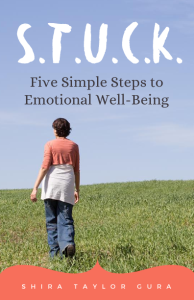 And I have a beautiful book cover.
Or don't I?
The other day, I received an email from my book publisher and graphic designer suggesting we think twice about the going book cover image.
Why?
Because they started to wonder if the current photo feels a bit confusing.
As in, here I am, walking in a summery-looking field, looking off to the left – What's over there?
Why am I in this field?
Where am I going?
They suggested this current photo depicts more of a sense of wandering than it does of, say, hope for getting out of an emotionally challenging situation.
They suggested this current image is clashing with this S.T.U.C.K. title.
What?
Are they kidding?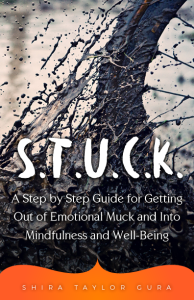 After all this?
(The process started out months ago with one idea – the "stuck in the muck" image and we stayed with it for a while until we heard people saying the cover needed to depict more feelings of hope and optimism. Then, I did a photo shoot with my awesome photographer, and we thought we found the perfect image. I thought we were done with this!)
Are you telling I need to do this again?
Blah!
I felt a twinge in my belly shouting out, "Shira, you are stuck!"
Yes, I was.
So, I processed.
I stopped and closed my eyes for a few moments and told myself that I was stuck on disappointment.
I uncovered beliefs:
I believe the current image is a beautiful image and shouldn't be changed! (Yes, in my eyes it is a beautiful photo, but it doesn't necessarily mean it should be the cover of your book.)
I believe no one should be suggesting to me, at this stage in the game, that I should consider changing the book cover. (No? They shouldn't? Why not? Your incredible publisher and graphic designer are trying to be helpful in order to grab the target viewer's attention and sell you more books.)
I believe I'm at a loss and have no clue as to what other kind of image to try to get. (Really? The graphic designer did give a direction for you – an image conveying more emotion, vulnerability maybe, or perhaps even hope. Someone who is stuck, but hopeful.)
With that, I came up with some considerations:
I can consider brainstorming with my awesome photographer and see what ideas she has.
I can consider throwing this idea out to friends and family and see what they have to offer.
Heck, I can consider offering this up to the world (thank you, Facebook and Twitter!) and maybe receive assistance not only from my friends and family, but from people I may not even know.
So, I chose not to give up and rather take this as another opportunity to have fun and be creative.
So, instead of "Not Again!", it will be, "Yes! Again! Let's Do It!"
I scheduled another photoshoot for next week.
In the meantime, I'd be grateful to hear from you!
Do you like the current image?
Or, do you prefer the "stuck in the muck" image?
Or, do you have another great idea for me to try when I go on the photo shoot next week?
I got stuck on disappointment, but it's OK.
I moved past it and now can't wait to see what comes next!