Here I go. I did it again. I neglected myself.
Agh.  Why, God, why do I do this to myself?
Winter approached and suddenly all my good health routines began to slowly diminish until they dissipated into extinction.
I got lax on my daily exercise. Same for my mindful eating practice.
And I feel it – in my body, with my clothing, and with my mood.
Blech.
That's just about the best word I can describe it as.
Blech.
And I got stuck on this last week.
Stuck on disappointment and anger at myself for getting myself in this rut.
Stuck on frustration that I just haven't learned how to get through a winter without neglecting myself.
And stuck on desire to get out of this muck.
Then last week, I noticed how different one of my neighbors looked – I hadn't seen him much this winter and was surprised to see how fit he became and how happy he looked. In our conversation, he shared with me that he did the exact opposite of what I did this winter – he started an exercise routine in early November, began to care about his body, and took on taking responsibility of his health.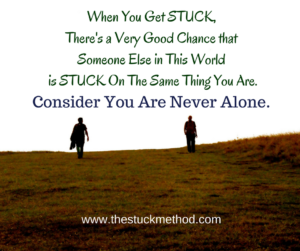 And during that conversation I considered many things, one of which was: I can't possibly be alone in my situation. There must be at least one other person in my community who also neglected him or herself this winter and wants to regain control of things.
So, I wrote an email to my community sharing that I was planning to reinstate the 30 minute morning exercise group that started last year, if anyone wanted to join me.
The response?
15 people have signed up.
One of whom ask me last week if I wanted to facilitate a cleanse as I did in the past.
And I responded with a resounding, "Yes!"
Within days we planned out and shopped for the cleanse, and I am once again reconnecting to my body and taking care of it the way I know best.
I am already feeling the effects, physically, mentally, emotionally, and spiritually.
Best of all, I am doing so in the support and dedication of others who are in the same boat as I.
Where are you stuck today?
Consider you are not alone and that there may be someone out there in this world who would be happy to support you and be supported in the process of getting unSTUCK.