For the past couple of months, I've sat on a committee to put together an adult dance party for holiday of Purim. I've sat on this committee in the past, and unfortunately, was never well attended.
This year, I said I would give it one last shot before resigning from sitting on this particular committee.
The committee chose a theme (the cinema) and the entire evening, including the music that would be played and scenery that would be set up, was catered around that theme.
My role on the committee was marketing the event.
As a lover of creating and editing short movie clips, I volunteered to create short movie teasers (one teaser a week for six weeks) to get the community excited about the upcoming party.
With the help of my committee, I chose six different clips from six different movies, found people in our community to work with me on dubbing the scenes, and then wrote out a script for them to work with. The scripts, of course, all were in jest and were opportunities for our community to laugh at ourselves, all in the spirit of the holiday.
It was time-consuming on my end, but it was so well worth it.
The community loved them.
The community laughed.
After one teaser was sent, people anticipated receiving more.
The community got excited and started purchasing tickets for the evening event.
While our committee was hoping for 140 people (last year there were much fewer), 180 people signed up! We knew it was going to be a great success!
The morning of the event, my husband mentioned to me he had a conversation with one of his friends (who also happened to have been someone on the committee) who mentioned to my husband that I was being annoying with all the work I was putting into the event.
Annoying? I thought to myself.
What?
How could someone say that about me?
And all the work I've done?
Look at the results of my efforts!
How dare you saying I am annoying!
On the verge of tears, I caught myself.
Being stuck.
So, I stopped and took a deep breath.
And told myself I was stuck on agitation.
And then uncovered my beliefs:
I wasn't being annoying during this process, I was just doing my best to make some great videos!
Shira, is there a tiny, infinitesimal chance you could have been annoying during any part of this experience? Yes, maybe.
I should be receiving credit from this person, not receiving a put down!
Shira, you received lots and lots of credit from him already!
And coming up with considerations wasn't that hard actually.
Maybe this guy, who is always talking in jest, was talking in jest with my husband.
If that was true, maybe I can just give him the benefit of the doubt that he really had no bad intentions towards me.
Maybe, since this information was given to me second hand, I could consider those words weren't exactly the words that came out of this person's mouth. Maybe my husband misheard him? Maybe he misinterpreted in?
Maybe, I can just ignore the comment, since it wasn't said to me directly, and continuing being happy in the spirit of the holiday.
I chose to take them all on.
And when I saw him that night at the party, instead of acting passive-aggressively (which would have been in my nature to do), I smiled and interacted with him as if nothing had happened.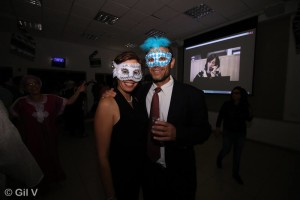 And laughed
and smiled
and danced
and had a fantastic night
at what is claiming to be the best party in our community to date.
I'm so grateful I didn't allow that stuck experience ruin my holiday!