As a speaker, I use personal stories, self-deprecating humor, and passion to keep your audience members listening, engaged, and realizing the possibilities that exist in their own lives to get unSTUCK. All of these speeches are experiential and your audience will leave with practical and applicable next steps to get unSTUCK in their lives and relationships.
I present both keynotes and workshops for audiences of all sizes and I speak on a variety of topics including: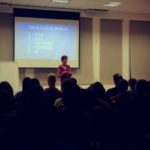 Marriage and Relationships/Shalom Bayit
These talks focus on how our spouses and other people in our lives may (and do!) trigger us, but that no matter what, we have the power to choose how we respond to them. The focus is on taking responsibility for getting unSTUCK in his or her own life, rather than trying to change the other person.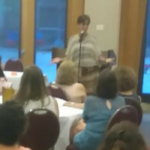 Parenting
These talks focus on how we can get unSTUCK when parenting and become more loving, patient, and accepting parents. This talk also focuses on how we, as parents, can guide our children (implicitly and explicitly) through difficult and emotionally challenging situations using The S.T.U.C.K. Method.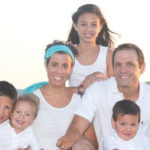 Life in Israel
These talks focus on modern-day kibbutz life in Israel from an immigrant (olah) perspective. I speak about what life is like living during a time of heightened terrorism. I share stories regarding how I got (and continue to get) unSTUCK from living in fear as well as getting unSTUCK while living in a small community.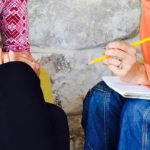 Journaling as a Therapeutic Approach to Emotional Well-Being
These talks focus on the power of writing to enhance emotional well-being. I speak about the possibilities of what can happen when we take our "stories" out of our heads and put them on to paper upon which to reflect.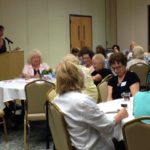 Mindful Eating 
These talks focus on how we can get unSTUCK from emotional eating. I speak about the possibilities of a mind/body/spirit approach to eating. These talks are experiential (so get ready to taste some food!) and can be followed by a shared meal which we practice to eat mindfully.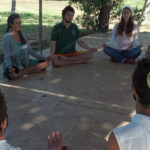 Non-negotiable Mornings
These workshops offer participants new considerations on how to start their days. I share and guide participants through some of my favorite daily mind/body/spiritual practices.
* For scholar-in-residence (Shabbat) experiences, I am also happy to participate in various aspects of your religious services, including leading a musical Kabbalat Shabbat experience based on our monthly "HannaTONES" prayer experience in my home community.
Contact me to start a conversation about me visiting your community.
Testimonials:
"We were fortunate to engage Shira as our Scholar in Residence for an entire Shabbat day. Shira's gentle, relaxed approach makes for a spiritually enlightening and thoughtfully refreshing experience. We all loved the meditative chanting, the meaningful conversation, the accessible yoga, the mindful eating, and the open dialogue." —Hazzan Alisa Pomerantz-Boro, Congregation Beth El, Voorhees, New Jersey; President, Cantors Assembly.  
"Shira Taylor Gura has  an unusual combination of professional expertise about dealing with life's everyday challenges and relationships and a natural almost home-spun approach which  instantly makes a connection between  herself and her audience. Shira imparts her wisdom based on her professional training and her own life experience with ease both via the pages of her book and in person. She is able to bring her own passion and knowledge about Judaism as part of a positive approach to life to a wide age range of people from diverse backgrounds.!" —
Diane Friedgut, Director, International Women's Day of Learning, Israel
"Shira engaged our women with her description of ways to getting unSTUCK with humor and insight. Based on her new book, her presentation engendered questions, discussions and a new approach to facing avoiding stress in daily life. We recommend trying it out!" —
Sheila Friedman, President of Congregation Shirat Hayam, Ventnor, NJ
"What an enlightening, and practical workshop presentation! Shira explained 5 simple, yet highly effective steps to remember when we are feeling stuck. Her method is simple, yet brilliant! I highly recommend her outstanding book! It is a must read if you would like to take full control of your life."
Reverend Margaret Palagye, Founder and Senior Minister of The Joyful Gathering Spiritual Center, Collingswood, NJ
"Shira led a beautiful program at our inaugural Pearl Society event, geared to our young women. Her words and approach to life really resonated with the group and they expressed interest in using the S.T.U.C.K. method techniques to help their children cope with stressful situations. Thank you Shira!" —
Paula Joffe, Dir. Women's Philanthropy, Jewish Federation of Princeton Mercer Bucks, NJ
"Shira took our Shabbat morning service to a deep and meaningful place through guided song and meditation.  It was a new and different experience for our congregation, one that was welcome and appreciated
.
" —
Rabbi Aaron Krupnick, Senior rabbi, Congregation Beth El, Voorhees, NJ
"Shira's presentation on her book was relatable and captivating. She is a dynamic speaker and listens carefully to the needs of the group, as she gives them the tools to overcome daily emotional challenges." —
Debbie Ravitz, Executive Board Member of the Sisterhood of Congregation Beth Sholom, Cherry Hill, NJ
"The S.T.U.C.K. Method is a wonderful, practical guide to utilizing mindfulness and emotional awareness to unstick yourself from destructive emotional patterns and live from a place of greater freedom and openness." Dr. Rabbi James Jacobson-Maisels, founder of Or HaLev: A Center for Jewish Spirituality and Meditation
"Shira's presentation and workshop were both thoughtful and useful. The S.T.U.C.K. Method is a practice we all can use to help reduce the stress in our daily interactions with others- a mindful way of living!"
Paula Levine, Program Chair, Temple Emanuel, Cherry Hill, NJ
"
We can all recognize ourselves in the revealing stories Shira Taylor Gura tells about getting stuck in the everyday events of life. This intimate sharing inspires the reader to try out The S.T.U.C.K. Method for their own liberation." 
–Rabbi Jeff Roth, Director of The Awakened Heart Project
"The S.T.U.C.K. Method is wise, skillful, and practical. Most importantly, though, it offers the possibility of real change." Carla Naumburg, PhD, author of Ready, Set, Breathe: Practicing Mindfulness with Your Children for Fewer Meltdowns and a More Peaceful Family

 Contact me for more information about setting up a speaking engagement or workshop in your community.