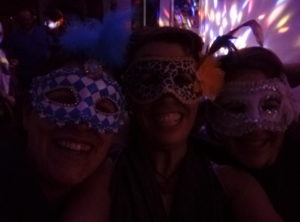 We had a party on Saturday night.
Long story short, it was a party intended for our entire community, but only a handful of people showed up.
At the end of the night, my husband asked me if I was disappointed – and I immediately responded, "No! I had an awesome time!"
That was the truth.
But here's the thing: I was disappointed, I just didn't get stuck in it.
Throughout the night, if I'm being honest with myself, I did have thoughts such as:
Is anyone going to show up?
This person said she was going to come and she's not here!
What is everyone thinking about this situation?
People in my community must not like me.
I should send another message to remind people.
But, here's the thing.
I was so aware of my thoughts.
So aware.
And each time I noticed a belief arising in my mind, I questioned it and in realizing how limiting each belief was, I directly went to consider another perspective:
It doesn't matter how many people show up.
I can have fun no matter how many people are here.
It was a very busy weekend with lots of other celebrations going on.
People are tired.
People don't always have to come to every party that is happening in the community.
It's out of your control at this moment anyway.
You don't need to take things personally.
I have this moment, and this moment only. What are you going to choose to do with it, Shira?
And what did I do?
I danced.
I smiled.
I laughed.
I sang.
And I had a great time with those who did show up.
One thing for sure, I didn't get stuck, even though that would have been the easy thing to do.
Has anything like this ever happen to you?