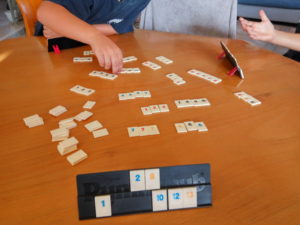 (This article appeared first on  The Huffington Post.)
I played Rummikub the other day with my kids.
As we chose our tiles, I suddenly heard reactions of joy and cries of disappointment.
"Yes!" one child boasted. "I got great tiles!"
"Umph!" sighed another. "This isn't fair! I got the worst tiles in the world! I'm gonna lose!"
I ignored their comments and allowed the game to begin.
Let it go, I said to myself.
And then ironically, as we began to play, I found myself getting similarly attached to the temporary moments of happiness and frustration that come before each move.
Happy when I had the opportunity to place a tile down.
Frustrated when I couldn't.
But it was just a game, of course.
And I didn't take it seriously knowing that the greatest joy of playing games with my children is in simply spending time with them, interacting with them, laughing with them, watching them grow and learn, and creating memories.
That's the important thing.
Playing.
But, in the midst of the RummiKub game, something else suddenly dawned on me.
Choosing to stay in the game is just as important as choosing to play the game in the first place.
(To read the rest on The Huffington Post, please click here.)